Tiniloo founders (Caroline Sicot and Marie Lemoine) have solicited Capital & Dirigeants Partenaires to accelerate the development of the company created by the two friends. Tiniloo delivers educational and recreational activities-in-a-box designed for future mothers, infants and young children. 
En quoi consiste l'offre de Tiniloo ?
Our company will soon be five years old. We offer prepared content "boxes" for children and future mothers. The box concept comes from the United States, where it was first used by Birchbox in the cosmetics and beauty products sector. Women take out a subscription and each month receive a box containing product samples to test. This system is designed to introduce brands and products and incite customers to come back for more. Our boxes go farther, with an educational and recreational content. 
Customers are not obliged to subscribe for a fixed period. Subscriptions can be taken out for 1 month or for 12 months, automatically renewed, without restrictions.  
We have three product lines: 
For pregnant women we offer products for their pregnancy: anti-stretch marks creams, books on pregnancy, targeted food products, home decoration and fashion items…

 

For infants up to 3 years old our boxes contain toys, baby care items, hygiene and skin care products…

 

For children aged 3 to 10: two creative activities each month, with all the necessary equipment – glue, glitter, scissors – and a book and other products on a variety of themes.

 
 Moms subscribe on our website; they enter either the date they expect to give birth, or their child's sex and birth date, and each month receive a surprise package of four to six products tailored to the child's age and sex.  
All boxes are priced at €24.90, including delivery. The value of the products they contain is much higher. 
 Tiniloo acts as a consumer influencer by curating the proposed content. We want to get children interested, and to enable moms to discover new brands and products that we have chosen as the best on the market for stimulating our children in a number of areas – cosmetics, food, textiles, toys, books, home decoration, etc. The boxes for children are also intended to draw children away from screens, by allowing them to share time with their parents or grandparents, for example. All the ingredients are in the box, and a child can easily pick up the box and go off to play at his grandmother's house.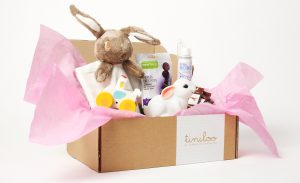 You also have an online shop.
Yes, if a mom likes a product she has received in her box she can order it from the e-shop the next month. We deliver items in the next month's box, free of charge to our subscribers. 
We also offer products that we have found in other countries and that are hard to find in France. All these products can be added to the regular monthly box. 
How have you worked with Capital & Dirigeants Partenaires?
 We set up a first round of equity financing in July 2014. Our company had been in existence for just over two years. We needed funds to develop more quickly. Our concept and operational modes were firmly established. We wanted to invest in communication to publicize our brand with end consumers. 
We hired one person after the financing process, and another just recently. We are trying to stay low-cost, and many tasks are outsourced. We have a logistics specialist who manages the stock, filling boxes and shipping; a freelancer who handles community management, and other who oversees natural search engine optimization, a Web agency that manages our site. We hold down our fixed costs, so that we have some flexibility. 
What has Capital & Dirigeants Partenaires brought you, in addition to financial investment?
Capital & Dirigeants Partenaires has helped us take a step back from our work. When you are caught up in the daily routine it can be hard to find time to look at the figures, to analyze the strengths and weaknesses of each product, etc. Working with someone from the outside forces us to sit down and look at what works well and what works less well. It's a constantly renewed challenge! 
What
are
your goals for the next few months?
 First of all, we have revised our marketing strategy for our three product lines. The line for children aged 3 to 9 will be split into two lines in a few weeks. We will have an age 3-to-6 line and a 7-to-10 line, to make options clearer for moms, and the website will be redone as a consequence. 
We also have a box for dads! This is part of our limited edition selection, items that are sold "once off", like the breastfeeding box, for instance. 
Box volumes have increased quite a lot, since we've automated as much as possible the interface between customers' orders and the logistics end, to make the process more fluid, with fewer manual interventions. 
One of the big areas of development in 2017 will be B2B. This is the main mission of the person we have just hired. We are going to offer our boxes under a "white label", for example to childcare centers and hotel groups. Works committees are also a potentially attractive target: a corporate group such as Total could propose a box to its employees as a Christmas gift, or for the birth of a child. We take care of everything! 
We are also working on a new diapers subscription offer. Having your own diapers manufactured requires a big investment, but we could join up with an innovative partner in the sector to propose a product that would be different from Pampers. Organic, original, distinctive design… we're looking for ideas! We want to break the mold and bring parents a refreshing and more entertaining outlook.